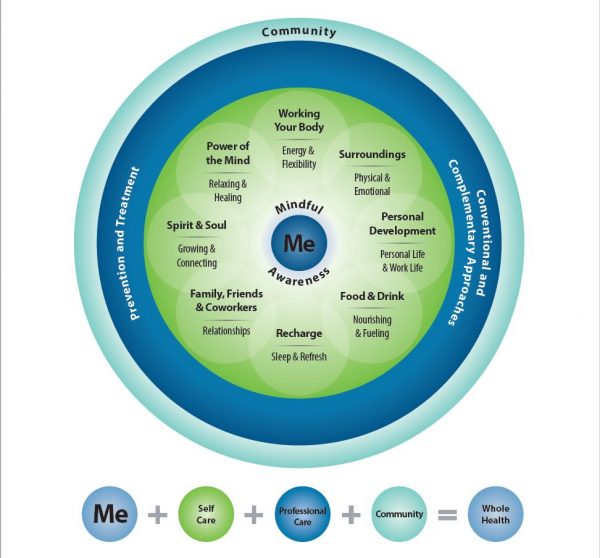 The Whole Health model for patient care is all encompassing—it is more than just treating a particular symptom or disease. Commonalities include:
Recognizing the patient as a whole person, not just by diagnosis, illness, injury or disability,
Examining the effects manifesting throughout the patient's body, mind, and spirit to enhance the person's life and total well-being.
Placing the patient as an active partner at the center of all aspects of his or her health,
Compiling a team to help the patient meet goals for overcoming health issues, as well as daily living, and future goals.
Incorporating a range of conventional and complementary approaches, like mindfulness education to promote self-care and healing, and alternative therapies like yoga, acupuncture, massage, meditation, and biofeedback, among others.
Emphasizing the importance of relationships and partnerships with a team of providers and community resources.
Physicians who practice using a whole health model have an expanded toolbox for care of the whole person—taking into consideration the patient's current medical issues, plus past history and their life goals. This is particularly helpful for veterans who suffer with chronic pain and often experience comorbid mental and physical health issues such as addiction to opioids or other substances and Post Traumatic Stress Disorder (PTSD), among other diagnoses and symptoms. With Whole Health, the aim is to help veterans focus on life goals as they work to manage their chronic pain and other ailments. If patients are able to pinpoint why they want to be healthy, they are able to, with the help of a support team, develop a Personal Health Plan based on their goals, preferences, and needs. By doing so, they are empowered to carve out their own individual pathway toward well-being; one that incorporates self-care skills, complementary and integrative health, health coaching and support, clinical treatments, in/outpatient care, and health and disease management.
The Patient Experience with Whole Health
Although the model of Whole Health is relatively new, veterans who have been under the care of the VA's Whole Health for Life model have shared their success stories. For one, veteran Alex Stallworth (Marine Corps 1985 – 1990) has been able to change his life under the Whole Health model. Now a trained Whole Health group facilitator, Stallworth shares a bit of his journey back to good health in a 2017 Veterans Health Administration (VHA) video1 (see video sidebar):  "I could never have told my story if there were no ears to listen. Using the tools and techniques that the VA's programs have taught me to be productive and constructive in my life. It has put me in the driver's seat and empowered me to take control of my new beginning, my new life."   This integrative method has also improved life for Larae Jackson (Airforce 1982 to 1992), who has been experiencing chronic pain related to Fibromyalgia since the mid '80s. "No one could figure out why," she explains in a separate 2017 VHA video2 (see video sidebar). "For a long time, I felt alone. I felt that no one understood what I was going through. Moving in the direction that I am right now, I can walk on my treadmill, I can take my dogs to the park, I can sit through a whole movie, which I couldn't do before, I can sleep, and I can have a social life. All has proven to be very important."
Since veterans like Stallworth and Jackson and so many others like them, have benefited from this integrative approach to patient care, the VA is leading the approach to institute the Whole Health model for health care at VA sites across the country. Implementation of integrative medicine like the Whole Health model doesn't have to be unique to the VA health system; the model can enhance and expand the patient care tool kits of all clinicians. When it comes to pain management, the broadened tool kits stemming from Whole Health may prove to offer patients better, more lasting solutions for their wellbeing.
Instituting the Whole Health Model for Pain Management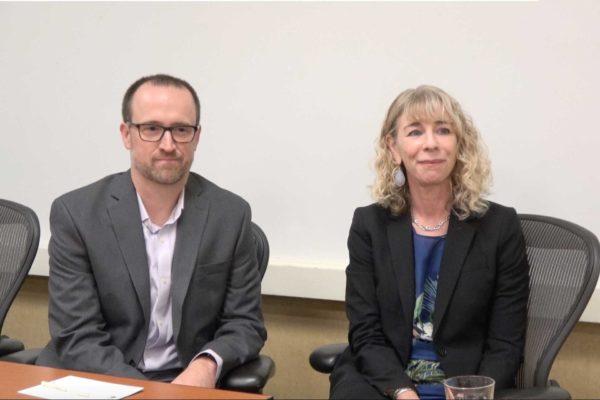 William Becker, M.D., and Karen Seal, M.D. are co-PIs on a study meant to establish and implement a new Whole Health paradigm for chronic pain care, emphasizing non-pharmacological self-management of pain that reduces pain symptoms and improves overall functioning and quality of life in veterans. To learn more about their study as part of the PMC, click here.
Pain Management Collaboratory co-principal investigators Karen Seal, M.D. (San Francisco VA Health Care System) and William Becker, M.D. (West Haven, Conn. VA) have recognized the Whole Health as a pathway toward finding non-pharmacologic and alternative approaches for pain management. In their PMC grant, they emphasize the "critical need to develop new pragmatic, primary care-based healthcare delivery approaches for the management of chronic pain in veterans—most of whom have comorbid mental health conditions and many of whom have relied on opioid therapy. To be successful, such an approach must be patient-centered, yet prescriptive in terms of implementation; it must support care of the whole person, build self-awareness, and orient patients toward their underlying values and goals for health. We posit that the VA's patient-centered Whole Health Model can help guide the implementation of multi-modal pain
care for veterans in primary care..." They highlight the approach's ability to:

engage patients in practicing self-care, with a combination of provider and community support,
use health IT infrastructure to enhance information distribution and community,
offer practical guidance for care implementation, and
focus on evidence-based integrative treatment approaches.3
In her work as the Director of the Integrated Care Clinic for Iraq and Afghanistan Veterans and Director of the Integrated Pain Team (IPT) Clinic, based at the San Francisco VA Health Care System (SFVAHCS), Dr. Seal sees patients, many of whom are veterans of the wars in Iraq and Afghanistan, struggling with a combination of issues including chronic pain, diagnosed PTSD or the symptoms relating to it, and other health issues. It is quite common to see patients with chronic pain being treated with opioids finding that they need higher and higher doses to help with the pain, and becoming addicted. Dr. Seal and the team members at the Clinic have embraced the Whole Health model as a way to help veterans, and other patients, deal with their chronic pain using a multimodal approach. The interdisciplinary team of providers includes: a doctor, nurse practitioner, pain management pharmacist, psychologist, physical therapist and nutritionist. "As a primary care internist, my main focus is to bring integrative interventions into the primary care arena," Seal says in an April 2017 NIH videocast. "It takes a whole health team to activate patients to make changes, starting with greater self-awareness using the Personal Health Inventory, developing a personalized health plan by articulating personal values and goals for health, and utilizing Personal Health Coaching.4"
For more information about The Whole Health Model, please see the following links:
1. The Pathway to Whole Health (https://www.youtube.com/watch?time_continue=7&v=0nkO-3PA29c) Veterans Health Administration Published on July 12, 2017
2.  Whole Health Approach to Clinical Care (https://www.youtube.com/watch?v=wrvHS8oMSWM) Veterans Health Administration Published on Sep 14, 2017
3.  "Implementation of a Pragmatic Trial of Whole Health Team vs. Primary Care Group Education to Promote Non-Pharmacological Strategies to Improve Pain, Functioning and Quality of Life in Veterans"
Grant # 1 UG 3AT009765-01.
Funder: Northern California Institute for Research and Education (NCIRE).
Institutes Providing Oversight:

National Center for Complementary and Integrative Health (NCCIH);
Eunice Kennedy Shriver National Institute of Child Health and Human Development (NICHD);\
National Center for Medical Rehabilitation Research (NCMRR)
4. "Pain and Opioid Management in Veterans: Evidence, Lessons Learned, and Future Directions in the Use of Collaborative and Integrated Care Approaches.
NIH Videocasting,
Monday, April 10, 2017