PEG Scale Assessing Pain Intensity and Interference (Pain, Enjoyment, General Activity)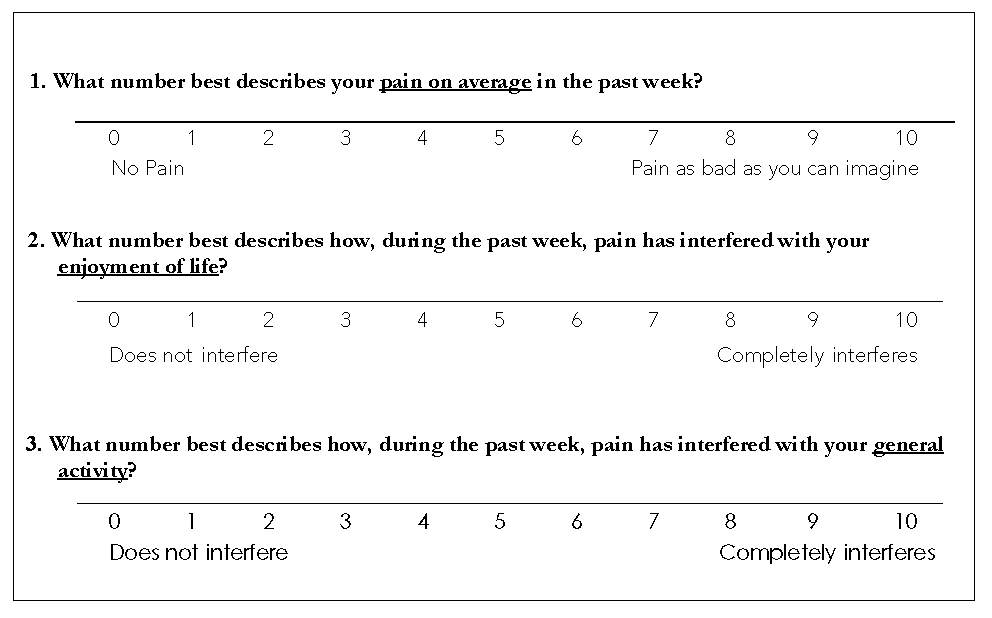 Description of Instrument
The PEG is a brief, convenient, patient-reported pain outcome measure that is derived from the Brief Pain Inventory. The PEG includes 3 items assessing pain intensity and functional interference (i.e., interference with enjoyment of life and general activity); it has demonstrated good reliability, validity, and responsiveness in large samples of chronic pain patients in primary care, VA hospitals, and pain management centers (Krebs, et al., 2009; Kabore et al., 2020). The PEG is scored by averaging the items; scores range from 0-10. Its excellent psychometric properties and responsiveness to treatment compare favorably to other established measures such as the PROMIS and SF-36 pain scales (Kean et al., 2016).
References
Krebs, E. E., Lorenz, K. A., Bair, M. J., Damush, T. M., Wu, J., Sutherland, J. M., Asch S, Kroenke, K. (2009). Development and Initial Validation of the PEG, a Three-item Scale Assessing Pain Intensity and Interference. Journal of General Internal Medicine, 24(6), 733–738

Kabor  JL, Sa di H, Dassieu L, Choini re M, Pag  MG. Pain Pract. 2020 Jul;20(6):588-599. Predictors of Long-Term Opioid Effectiveness in Patients With Chronic Non-Cancer Pain Attending Multidisciplinary Pain Treatment Clinics: A Quebec Pain Registry Study.

Kean J, Monahan PO, Kroenke K, Wu J, Yu Z, Stump TE, Krebs EE. Comparative Responsiveness of the PROMIS Pain Interference Short Forms, Brief Pain Inventory, PEG, and SF-36 Bodily Pain Subscale. Med Care. 2016 Apr;54(4):414-21. PMID: 26807536.